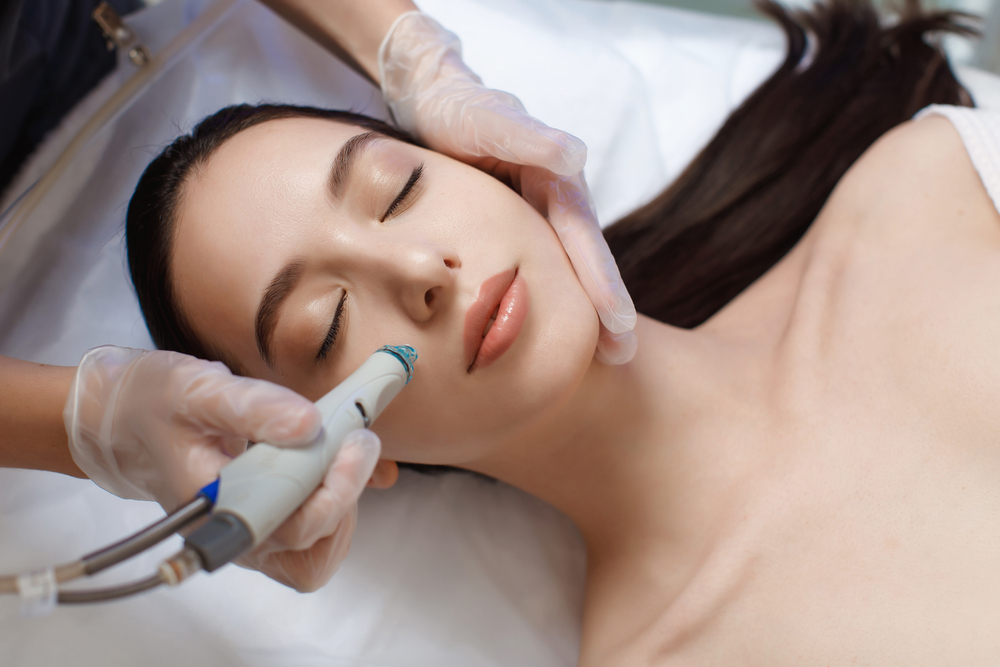 Haven't You Heard? HydraFacials Are the Best New Cosmetic Treatment for Glowing Skin!
Want smoother, healthier, more evenly toned skin? Then, you need a HydraFacial, a cosmetic service so popular right now that one is being performed somewhere around the world every 15 seconds! And it only keeps gaining in popularity for good reason! HydraFacials don't just promise great results, they truly deliver.
But, what exactly is a HydraFacial? It's a three-step facial process that deeply cleanses, exfoliates, and hydrates your skin with so many great benefits.
It's completely customizable, so you choose exactly what does and doesn't go onto your skin for best results – just another reason why everyone is obsessing over this sensational treatment option for hydrated, youthful skin that gives off that healthy glow. Let's take a look at some of the most frequently asked questions about HydraFacials to learn more!
HydraFacial FAQs
Why Choose HydraFacials to Improve Your Skin?
This non-invasive skin rejuvenation technique that utilizes patented skincare technology is a step above regular facials, as you get all of the great benefits of a facial with the addition of deep hydration and no pain. Worried about side effects from a HydraFacial? Side effects include smoother, cleaner, softer, clearer, skin.
There is no risk of skin damage from a HydraFacial, unlike with other options such as chemical peels. HydraFacials effectively target the signs of aging to help your skin look younger and healthier in as little as 30 minutes without any downtime afterward. Results are consistent, so you know exactly what to expect when going in for a HydraFacial. And, it's great for nearly all skin types, even for those with sensitive skin.
What Conditions Can a HydraFacial Help Improve?
HydraFacials can treat a wide variety of skin conditions affecting the face, including:
Acne and acne scarring
Brown spots
Clogged pores / congested skin
Fine lines and wrinkles
Hyperpigmentation
Large pores
Laxity (loose skin)
Oily skin
Premature aging
Skin dryness and / or dullness
Uneven skin tone
This list is not all-inclusive, so if you have a skin condition, ask a facialist if a HydraFacial might be right for you.
When Will I See HydraFacial Results?
You will see results after just one HydraFacial, though it may take multiple treatments for you to achieve flawless skin. HydraFacial results are noticeable immediately and will continue to improve over time.
How Long Do HydraFacials Results Last?
Maximum results last anywhere from five to seven days or longer, depending on your skin and the specific formula of ingredients you choose for your HydraFacial. Repeat treatments regularly until you reach your skincare goals. Then, you should have HydraFacials periodically to maintain your results.
How Often Should I Get a HydraFacial?
You can get a HydraFacial about every two weeks until you achieve your desired results. Once you've accomplished great skin, you can space out your sessions to once per month or potentially longer between maintenance treatments depending on the condition of your skin.
How Much Is a HydraFacial?
You can expect HydraFacials to start at about $200, and prices can vary greatly depending on the products you choose for your custom treatment. The products you select also affect the amount of time it takes to complete your treatment, which could contribute to a higher price. Other factors in the cost of a HydraFacial include your geographical location and the skill and expertise of your provider.
HydraFacials can cost as little as $150 and top out around $400. The best way to find out how much a HydraFacial costs you is to book a complimentary consultation with a reputable cosmetic services provider.
Are HydraFacials Worth It?
That's something that only you can decide based on your custom quote, your current skin condition, and your desired aesthetic. If you want to invest in your skin, it's not likely that you can go wrong with a HydraFacial, no matter the price. We highly recommend HydraFacials if you're looking for real results without the harsh effects of other cosmetic services that offer similar results.
Can a HydraFacial Cause Breakouts?
It is possible, though very rare, for a HydraFacial to cause a breakout. What can happen after a HydraFacial though is a skin purging, which some people mistake for a breakout. Skin purging happens when your skin pushes dead skin cells, oil, oil, and other debris or dirt to the surface.
You can tell the difference between skin purging and a breakout by where it occurs if you suffer from acne breakouts. Skin purging will happen at the site of your normal breakouts, whereas a (very unlikely) HydraFacial-induced breakout will happen somewhere else.
Am I a Good Candidate for HydraFacials?
Most everyone is an ideal candidate for this sensational treatment, as it can be customized with products that pair well with the condition of your skin. People who suffer from conditions such as frequent skin rashes, rosacea, or sunburns, or those who are pregnant, are not good candidates for a HydraFacial.
Ready to Book a HydraFacial for Flawless Skin? Make the Call Today!
What are you waiting for? You can skip the downtime, skin irritation, side effects, and other unnecessary concerns of skincare alternatives to a HydraFacial, such as microdermabrasion or chemical peels.
With a HydraFacial, you can get your facial glow on safely and effectively in as little as one treatment! Contact your local HydraFacial provider today to see if you're an ideal candidate for this amazing skincare technique taking the cosmetic services industry by storm!